Yomi Kyoubashi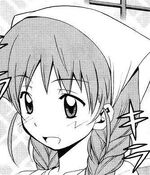 | | |
| --- | --- |
| Japanese Name | 京橋 ヨミ |
| Romaji Name | Kyōbashi Yomi |
| Name | Yomi Kyoubashi |
| Other Name | Yomi-san, Kyoubashi-san |
| Age | 14-15 |
| Gender | Female |
| Birthday | Unknown |
| Height | Unknown |
| Weight | Unknown |
| Blood type | Unknown |
| Hair Color | Unknown |
| Eyes Color | Unknown |
| Status | Alive |
Personality
| | |
| --- | --- |
| Like | Gardening |
| Dislike | Unknown |
| Hobby | Gardening |
Family & Relationships
Manga & Anime
Yomi Kyoubashi (京橋 ヨミ, Kyōbashi Yomi?) is the daughter of a gardener who owns a local gardening center. She is friendly with Hayate as they are about the same age. Hayate buys fertilizer from her dad's gardening center for the Sanzenin Mansion. She spends every holiday helping out her family's business and also knows a lot about gardening. After seeing her and Hayate pleasantly talking to each other, Nagi becomes jealous of the "younger hard-working gardener girl".
Appearance
Yomi has short hair that is tied in two braids. She also wears a bandana.
Ad blocker interference detected!
Wikia is a free-to-use site that makes money from advertising. We have a modified experience for viewers using ad blockers

Wikia is not accessible if you've made further modifications. Remove the custom ad blocker rule(s) and the page will load as expected.