Taiga Ookouchi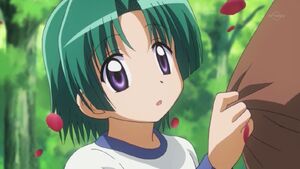 | | |
| --- | --- |
| Japanese Name | 大河内 タイガ |
| Romaji Name | Ōko'uchi Taiga |
| Name | Taiga Ookouchi |
| Other Name | Young Master, Taiga-kun |
| Age | 10, 11 (with the passage of time) |
| Gender | Male |
| Birthday | September 29, 1994 (manga timeline) |
| Height | 125 cm (4'1") |
| Weight | 25 kg (55 lbs) |
| Blood type | B |
| Hair Color | Green |
| Eyes Color | Purple |
| Status | Alive |
Personality
| | |
| --- | --- |
| Like | Throwing flowers |
| Dislike | Animals |
| Hobby | Following Himuro's orders |
Family & Relationships
Manga & Anime
Taiga Ookouchi (大河内 タイガ, Ōko'uchi Taiga?) is Himuro's master, but it is difficult to tell which one is the master and which one is the butler. Taiga follows Himuro around throwing rose petals creating a rose storm. He can be mistaken for a little girl at first due to his voice and appearance. Taiga's hairstyle changed in the anime. He does not have a short ponytail in the manga but gets one in later chapters.
Appearance
Taiga is short in stature, he has short green hair (which almost looks like it has been styled into a hime cut due to the sidelocks) and has purple eyes. In season 1, his hair is tied in a pony tail while in season 2 his hair is down.
Ad blocker interference detected!
Wikia is a free-to-use site that makes money from advertising. We have a modified experience for viewers using ad blockers

Wikia is not accessible if you've made further modifications. Remove the custom ad blocker rule(s) and the page will load as expected.