Limited 4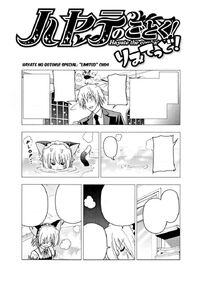 Chapter Info
Special Chapter : Limited 4
is a special chapter that was included with the fourth volume of the Hayate no Gotoku!! DVD and later included again in
Hayate no Gotoku! Volume 0
Characters in Order of Appearance
Hayate Ayasaki (Hayateishia Ayasaki)
Summary
Three days, after becoming a maid of the Segawa household, as well as being harrassed everyday by the butler of the household, Kotetsu, Hayate takes refuge and submerges himself underwater while in the indoor hotspring, as Kotetsu continues his search for him. After giving up on his search, Hayate emerges from underwater and remarks on the butlers stupidity before seeing Izumi standing naked in front of him before taking a bath in the hotspring. Both completly embarrassed by the situation, Hayate asks for Izumi to get in the water, so he won't see much. After sitting down in the water, Izumi apologizes to him and remarks about how this is the first time in her life that a boy has seen her naked, To which an embarrassed Hayate remarks "O..oh, right as of nudity, I... haven't seen so much, So...", Hearing his remark, Izumi comes to the conclusion that Hayate is the type of person who watches lots of naked girls, (believing that he has come up with a perfect excuse) Hayate corrects her by saying "Instead of staring at the beauty of various goddeses, I'd rather see Segawa-san naked over and over..." , Leaving Izumi completely embarrassed.
Notes
This chapter is non-canon to the main storyline.
Ad blocker interference detected!
Wikia is a free-to-use site that makes money from advertising. We have a modified experience for viewers using ad blockers

Wikia is not accessible if you've made further modifications. Remove the custom ad blocker rule(s) and the page will load as expected.