Mrs. Kohana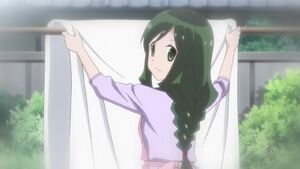 | | |
| --- | --- |
| Japanese Name | 鈴のお母さん |
| Romaji Name | Rin no Okāsan |
| Name | Mrs. Kohana |
| Age | Unknown |
| Gender | Female |
| Birthday | Unknown |
| Height | Unknown |
| Weight | Unknown |
| Blood type | Unknown |
| Hair Color | Dark Green |
| Eyes Color | Turquoise |
Personality
| | |
| --- | --- |
| Like | Unknown |
| Dislike | Unknown |
| Specialty | Unknown |
| Weakness | Unknown |
| Hobby | Unknown |
Family & Relationships
Manga & Anime
Mrs. Kohana (鈴のお母さん, Rin no Okāsan?) is Rin 's mother. Her given name has not been revealed as of yet.
Appearance
Mrs. Kohana has long wavy dark green hair and turquoise colored eyes like Rin.
Story
Sore ga Seiyuu!
Ad blocker interference detected!
Wikia is a free-to-use site that makes money from advertising. We have a modified experience for viewers using ad blockers

Wikia is not accessible if you've made further modifications. Remove the custom ad blocker rule(s) and the page will load as expected.