Mr. Aizawa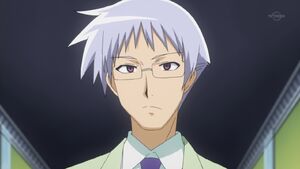 | | |
| --- | --- |
| Japanese Name | 咲夜の父 |
| Romaji Name | Sakuya no chichi |
| Name | Mr. Aizawa |
| Other Name | Dad, Tou-san |
| Age | 30's |
| Gender | Male |
| Birthday | Unknown |
| Height | Unknown |
| Weight | Unknown |
| Blood type | Unknown |
| Hair Color | Silver |
| Eyes Color | Purple |
| Status | Alive |
Personality
| | |
| --- | --- |
| Like | Unknown |
| Dislike | Unknown |
| Specialty | "Naked conversation skills" |
| Weakness | Foreign women |
| Hobby | Playing with his children |
Family & Relationships
Manga & Anime
Mr. Aizawa (咲夜の父, Sakuya no chichi?) is Sakuya's father. A man with a strange sense of humor, he is apparently proud of his "naked conversation skills", much to his children's horror. Despite this, he gets along very well with his younger children.
Appearance
Mr. Aizawa has silver hair with shortish bangs and purple eyes. He wears glasses and wears a suit.
Ad blocker interference detected!
Wikia is a free-to-use site that makes money from advertising. We have a modified experience for viewers using ad blockers

Wikia is not accessible if you've made further modifications. Remove the custom ad blocker rule(s) and the page will load as expected.