LIFE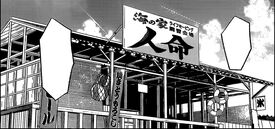 Information
Manga & Anime
LIFE (人命, Jinmei?) is a seaside restaurant and life saver training center in Shonan that is run by Yamato Ikusabe and Kasumi Asanagi. Souya, Mitsumi, Ayu and Hijiri go to this place after having read a flyer for life saver training in Heroes of the Sea Lifesavers.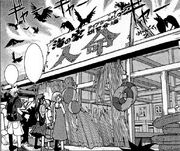 After the events of Heroes of the Sea Lifesavers, the seaside restaurant LIFE went out of business due to the poor quality of the food and service, and was destroyed.
Months later, in Hayate no Gotoku!, the seaside restaurant LIFE was rebuilt by Kotetsu, after Hayate had made a bet with Yamato to bring back the seaside restaurant and earn 8.9 million yen. Three days later, after Hayate had won the bet, the seaside restaurant is presumably left in Yamato's care.
Ad blocker interference detected!
Wikia is a free-to-use site that makes money from advertising. We have a modified experience for viewers using ad blockers

Wikia is not accessible if you've made further modifications. Remove the custom ad blocker rule(s) and the page will load as expected.