Kokonoe Saginomiya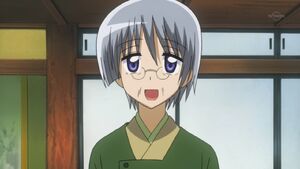 | | |
| --- | --- |
| Japanese Name | 鷺ノ宮 九重 |
| Romaji Name | Saginomiya Kokonoe |
| Name | Kokonoe Saginomiya |
| Age | 64 |
| Gender | Female |
| Birthday | Unknown |
| Height | Unknown |
| Weight | Unknown |
| Blood type | Unknown |
| Hair Color | Gray |
| Eyes Color | Blue |
| Status | Alive |
Personality
| | |
| --- | --- |
| Like | Unknown |
| Dislike | Unknown |
Family & Relationships
Manga & Anime
Kokonoe Saginomiya (鷺ノ宮 九重, Saginomiya Kokonoe?) is Isumi's grandmother, Hatsuho's mother, and Ginka's daughter as well. She is 64 years old.
Appearance
Kokonoe is an old woman with short gray hair and blue eyes. She wears glasses and kimono much like her mother, daughter, and granddaughter.
Ad blocker interference detected!
Wikia is a free-to-use site that makes money from advertising. We have a modified experience for viewers using ad blockers

Wikia is not accessible if you've made further modifications. Remove the custom ad blocker rule(s) and the page will load as expected.