Kang Tailang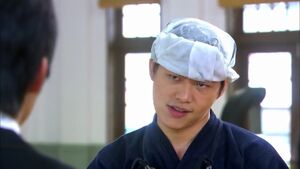 | | |
| --- | --- |
| Counterpart(s) | Koutarou Azumamiya |
| Chinese Name | 康太郎 |
| Pinyin Name | Kang Tailang |
| Japanese broadcast Name | 東宮 康太郎 |
| Romaji broadcast Name | Azumamiya Kōtarō |
| Age | 21 |
| Gender | Male |
| Blood type | A |
| Zodiac | Cancer |
| Status | Alive |
Family & Relationships
Information
Kang Tailang (康太郎 Kang Tailang) is Koutarou Azumamiya's counterpart and the character in the live action TV series. He is Yefeng's master and also a member of Bai Huang Academy's kendo club along with Gui Chuju.
Appearance
Tailang has short black hair. He wears a Bai Huang Academy uniform at university and wears a Kendogi Kendo Uniform when doing club activities.
Characteristics and personality
He has a demanding personality, childish, and doesn't like losing similar to his Counterpart. He saw Xiao Sa as his enemy after seeing that Chuju took interest in him.
Story
Trivia
Koutarou's name contains the same character as Tailang (康太郎), but Tailang's is read in Chinese style. Since Tailang's first name character is a surname, this means Tailang doesn't have the same name as Koutarou.
Ad blocker interference detected!
Wikia is a free-to-use site that makes money from advertising. We have a modified experience for viewers using ad blockers

Wikia is not accessible if you've made further modifications. Remove the custom ad blocker rule(s) and the page will load as expected.