Beware the snake's and the maid's poison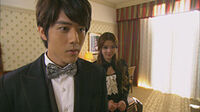 Episode Info
Episode
2
Japanese Title
メイドとヘビの毒にはご用心
Romanized Title
Meido to hebi no doku ni wa goyōshin
English Title
Beware the snake's and the maid's poison
On Air
Online
14 October 2011
TV
13 April 2012
19 June 2011 (EP1)
26 June 2011 (EP2)
Theme Song Info
Episode Navigation
Hayate no Gotoku! ~ Ikemen Shitsuji ga Omamori Shimasu ~ Episode 2, title name as "Beware the snake's and the maid's poison" (メイドとヘビの毒にはご用心, Meido to hebi no doku ni wa goyōshin?) is an episode of the live action TV series. This episode aired on October 14th 2011 (Online) and April 13th 2012 (BS Channel) in Japan. This episode is also included in Taiwan's episodes 1 and 2 that aired on June 19th 2011 and June 26th 2011.
Synopsis
Based on
Differences from the original story
Trivia
New Characters
Ad blocker interference detected!
Wikia is a free-to-use site that makes money from advertising. We have a modified experience for viewers using ad blockers

Wikia is not accessible if you've made further modifications. Remove the custom ad blocker rule(s) and the page will load as expected.