Hayate no Gotoku! Official Doujinshi ~The Butler And His Relatively Fun Friends ~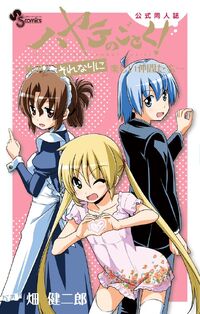 Volume Info
Volume Guide
Contains production stories, original setting documents and character commentaries.
Hayate no Gotoku! Official Doujinshi ~The Butler And His Relatively Fun Friends ~ is special volume that was released on March 18th 2015. This doujinshi contains production stories and original setting documents by Kenjiro Hata and character commentaries by Nagi.
Ad blocker interference detected!
Wikia is a free-to-use site that makes money from advertising. We have a modified experience for viewers using ad blockers

Wikia is not accessible if you've made further modifications. Remove the custom ad blocker rule(s) and the page will load as expected.