The Second Night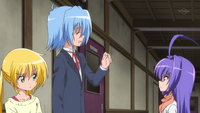 Episode Info
Theme Song Info
Episode Navigation
Hayate no Gotoku! CAN'T TAKE MY EYES OFF YOU Episode 2 - The Second Night aired on October 10th 2012.
Synopsis
Despite her shocking revelation, Ruri is ignored by Hayate and the others until she is finally brought before Nagi who hears from her that she is actually her sister, despite having no proof of it. Nagi allows to let her stay for a while, but after seeing her snooping around the mansion, she decides to take her to live with the other tenants at the Violet Mansion. Ruri refuses to stay, until Nagi is convinced to give her a chance. Nagi asks Ruri if she has any sort of special skill and she reveals herself to be a master of Systema, strong enough to confront Hayate. Hayate is attacked mercilessly by her until he decides to fight back and she starts crying, which is later revealed as just a trick for him to let his guard down. Nagi reprimands Ruri for using such underhanded tactics but compliments her for her fighting skill, even asking to learn it from her.
Trivia
Upon arriving at the Violet Mansion, Nagi, Ruri and Hayate overhear Ayumu singing the song Amazing Grace while playing her guitar.
Kayura described Systema as "A type of martial art invented by the Russian Special Forces for close quarters combat" which is actually wrong, as the exact history of Systema is unknown. But there are rumors that it is practiced by the Bogatyrs (Russian knights) of the 10th century.
Gallery
Ad blocker interference detected!
Wikia is a free-to-use site that makes money from advertising. We have a modified experience for viewers using ad blockers

Wikia is not accessible if you've made further modifications. Remove the custom ad blocker rule(s) and the page will load as expected.