Hayate no Gotoku! 10th anniversary OVA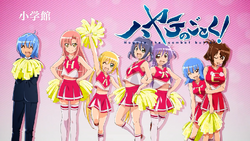 Info
Japanese Title
ハヤテのごとく!10周年 OVA
Romanized Title
Hayatenogotoku! 10-Shūnen ovu~a
English Title
Hayate the Combat Butler! 10th anniversary OVA
Directed by
Masashi Kudō, Yooichi Ueda
Charactor Design by
Masashi Kudō
Written by
Rie Koshika
Music by
Wataru Maeguchi
Studio
Manglobe
Release Date
Vol.A: June 18th, 2014
Vol.B: September 18th, 2014
Vol.C: December 18th, 2014
Episodes
3
Hayate no Gotoku! 10th anniversary OVA (ハヤテのごとく!10周年 OVA, Hayatenogotoku! 10-Shūnen ovu~a?) (Translated as Hayate the Combat Butler! 10th anniversary OVA) is a three part OVA of Hayate no Gotoku!. The three parts were bundled with the releases of volume 41, volume 42 and volume 43 of the manga.[1]
Endings
Episodes
References
Ad blocker interference detected!
Wikia is a free-to-use site that makes money from advertising. We have a modified experience for viewers using ad blockers

Wikia is not accessible if you've made further modifications. Remove the custom ad blocker rule(s) and the page will load as expected.