Home
Talk

31
830pages on
this wiki
Please Read The Rules before editing : Hayate Wikia Rules
Welcome
Welcome to Hayate The Combat Butler Wiki The Hayate no Gotoku / Hayate the Combat Butler wiki is a collaborative website about your topic that anyone can edit! We are currenly editing over 830 articles since September 11th, 2009.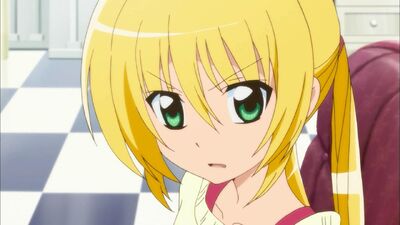 Nagi Sanzenin (

三千院 ナギ

Sanzen'in Nagi

?

) is the sole heir to the Sanzenin fortune, being the only survivor of the family besides her grandfather. Calling her "rich" would be selling her short. The "Sanzenin fortune" is so large, throwing away 20 trillion yen in a red herring investment is considered a prank. Her birthday is on December 3rd.
Hayate no Gotoku! Episode Spotlightedit
Latest Chapteredit

Chapter 433
The following day after the doujinshi competition, Nagi announces her plans to return to the Sanzenin Mansion to the residents of the Violet Mansion. Meanwhile, the mysterious Yozora Housen appears once again. What will happen?

Volume 39
Hayate no Gotoku! Manga Volume 39 will be released in Japan on December 18th 2013. The limited edition will include see-through playing cards.
Hayate no Gotoku General Newsedit
18/11/13 : Volume 39 of the manga will be released in Japan on December 18th. The limited edition will include see-through playing cards.
Affiliation

Main
Characters
Side Story
PICTURE OF THE WEEKedit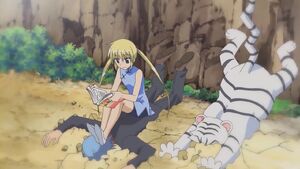 Hayate and Tama fall and hit the ground while saving Nagi (Episode 20 (S1))


The competition for the Emerald Necklace has ended! It seems that our representative, Hinagiku has a very high hurdle to jump in order to win a necklace but regardless, never giving up has always been her belief! Let us then continue to give our full support to Hinagiku in the now running nomination for the bearer of the Topaz Necklace!
To see the results of previous rounds in the prelims click here.
To see the official event calendar of ISML 2013 click here.
Official website: http://www.internationalsaimoe.com/voting/
HELP THIS PAGE
Everyone who often look and check this wiki, please help this page, list what is needed for help.
Chapter and Chapter cover
Story for each Character
Some information about character, manga and anime
List about HTCB music (Character CD etc.)
And many more!
Please support us and don't forget about Hayate Wikia Rules. By User:Hissatsu and User:Ashraf97
Font Logo By http://wolfs-rain.org/