Welcome, Don't forget to read The Rules before editing : Hayate Wikia Rules
---
Welcome to Hayate The Combat Butler Wiki The works of Kenjiro Hata wiki is a collaborative website about your topic that anyone can edit! The information topics including Hayate no Gotoku! and Sore ga Seiyuu! can be found here. We are currently editing over 1,048 articles since September 11th, 2009.
Rest In Peace, Miyu Matsukiedit
Risa Asakaze (

朝風 理沙

Asakaze Risa

?

) is the head of the disciplinary committee. She is often seen hanging around her friends Miki and Izumi. Her birthday is on July 13th.
Latest Chapter

Chapter 539
While working on her manga, Nagi remembers a moment she shared with her mother. Meanwhile, after realizing that Nagi won't have anyone to rely on, Hayate strives for a way to get her the Sanzenin inheritance. What will happen?

Volume 48
Hayate no Gotoku! Manga Volume 48 was released in Japan on May 18th 2016. The limited edition included three illustration cards.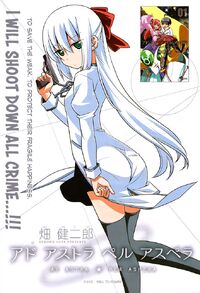 Ad Astra Per Aspera Chapter 5
Shinobu Hazuki is an honest boy who used to live peacefully. However, he is now a wanted criminal throughout the galaxy. After obtaining medicine for Pati, Shinbou finds himself cornered by the imperial soldier Satella. What will happen?
PICTURE OF THE WEEKedit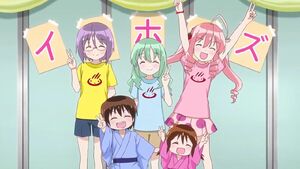 EARPHONES take a photo at a mini event (Sore ga Seiyuu!: Petit Uchiage)

The competition for the Emerald Necklace has ended! It seems that our representative, Hinagiku has a very high hurdle to jump in order to win a necklace but regardless, never giving up has always been her belief! Let us then continue to give our full support to Hinagiku in the now running nomination for the bearer of the Topaz Necklace!
To see the results of previous rounds in the prelims click here.
To see the official event calendar of ISML 2013 click here.
Official website: http://www.internationalsaimoe.com/voting/
HELP THIS PAGE
Everyone who often look and check this wiki, please help this page, list what is needed for help.
Chapter and Chapter cover
Story for each Character
Some information about character, manga and anime
List about HTCB music (Character CD etc.)
And many more!
Please support us and don't forget about Hayate Wikia Rules.
Affiliation