Home
Talk

22
774pages on
this wiki
Every User Please add your opinion at: Reference for Color.
Please Read The Rules before editing : Hayate Wikia Rules
Welcome
Welcome to Hayate The Combat Butler Wiki The Hayate no Gotoku / Hayate the Combat Butler wiki is a collaborative website about your topic that anyone can edit! We are currenly editing over 774 articles since September 11th, 2009.
Hayate no Gotoku! Cuties Episode 6 - "Hakuou Three Amiga"
The Hakuou Three Amiga is the group of student council girls who always cause trouble. The members are Izumi Segawa, Miki Hanabishi, and Risa Asakaze, each 17 years of age. However, they are all idiots, and like most girls, one of them has a crush on a certain guy. Would you like to know more about them and their daily life at the Hakuou Academy?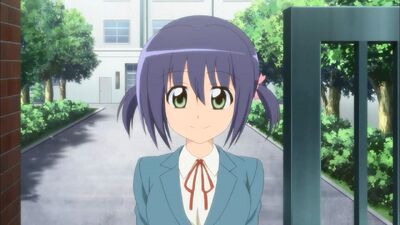 Ayumu Nishizawa (西沢 歩, Nishizawa Ayumu?) is a girl from Hayate's previous high school. She is also known as "Nom-Nom-tan" (Nom Nom is an onomatopoeia for eating) in season 1, as she appears in every episode always eating something, while miraculously never getting fat or diseased. Her birthday is on May 15th.
| | |
| --- | --- |
| Latest Chapter | |
| | |
| Chapter 406 | Volume 36 |
| After receiving word that their new part time girl cannot come in, Saki asks for Hayate's help at the new store, but upon learning from him that the store specializes in selling doujinshi, Ruka decides to go along. What will happen? | Hayate no Gotoku! Manga Volume 36 was released on March 18th 2013. The limited edition included a drama CD. |
Hayate no Gotoku General News
21/12/12 : New Hayate no Gotoku! anime series announced to air in spring of 2013. Read about it here.
24/12/12 : Volume 35 of the manga will be released in Japan on January 18th The limited edition will come with the storyboard of The First Night (episode 1) of Hayate no Gotoku! CAN'T TAKE MY EYES OFF YOU.
23/2/13 : Volume 36 of the manga will be released in Japan on March 18th The limited edition will come with a drama CD.
05/3/13 : The 4th Season Hayate no Gotoku! Cuties will premiere on April 9th 2013. Every episode will follow different characters and a different route. For more information Click here.
20/5/13 : Volume 37 of the manga will be released in Japan on June 18th The limited edition will come with a scented picture of Hinagiku Katsura.
Affiliation

Main
Characters
Side Story
PICTURE OF THE WEEK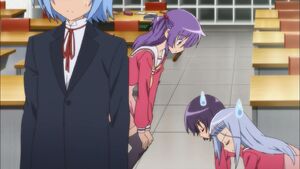 Everyone is shocked after Izumi lifted her skirt (S4 Ep 6)

The competition for the Aquamarine Necklace has ended! It seems that our representative, Hinagiku has a very high hurdle to jump in order to win a necklace but regardless, never giving up has always been her belief! Let us then continue to give our full support to Hinagiku in the now running nomination for the bearer of the Amethyst Necklace!
To see the results of previous rounds in the prelims click here.
To see the official event calendar of ISML 2013 click here.
Official website: http://www.internationalsaimoe.com/voting/
HELP THIS PAGE
Everyone who often look and check this wiki, please help this page, list what is needed for help.
Chapter and Chapter cover
Story for each Character
Some information about character, manga and anime
List about HTCB music (Character CD etc.)
And many more!
Please support us and don't forget about Hayate Wikia Rules. By User:Hissatsu and User:Ashraf97
Font Logo By http://wolfs-rain.org/