Home
Talk

34
922pages on
this wiki
Welcome, Don't forget to read The Rules before editing : Hayate Wikia Rules
---
Welcome to Hayate The Combat Butler Wiki The Hayate no Gotoku / Hayate the Combat Butler wiki is a collaborative website about your topic that anyone can edit! We are currenly editing over 922 articles since September 11th, 2009.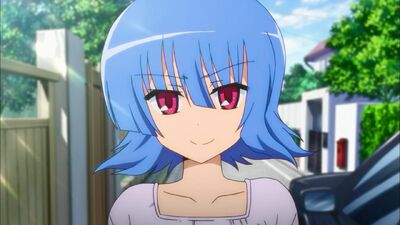 Ruka Suirenji (

水蓮寺 ルカ

Suirenji Ruka

?

) is a famous idol and an amateur mangaka. Like Hayate, she was abandoned by her parents and left with a debt of 150 million yen. She also shares the same dream as Nagi, which is to become a professional mangaka who can sell a trillion copies. Her birthday is on January 8th.
Latest Chapter

Chapter 478
After having been reminded that she has not worked on her manga since her competition, Nagi learns that her victory against Ruka was due to Maizumi's influence. Nagi then decides to speed things up by submitting a manga to a magazine. What will happen?

Volume 43
Hayate no Gotoku! Manga Volume 43 was released in Japan on December 18th 2014. The limited edition included "Vol. C" of the three brand new Hayate no Gotoku! OVAs.
Hayate no Gotoku General Newsedit
12/30/14 : Sore ga Seiyuu! gets green-lit for a TV anime series. For more information click here.
1/14/15 : The TV anime Sore ga Seiyuu! has been announced to air in summer of 2015. The animation will be done by Gonzo. For more information click here.
PICTURE OF THE WEEKedit
Hayate and Tama fall and hit the ground while saving Nagi (Episode 20 (S1))
The competition for the Emerald Necklace has ended! It seems that our representative, Hinagiku has a very high hurdle to jump in order to win a necklace but regardless, never giving up has always been her belief! Let us then continue to give our full support to Hinagiku in the now running nomination for the bearer of the Topaz Necklace!
To see the results of previous rounds in the prelims click here.
To see the official event calendar of ISML 2013 click here.
Official website: http://www.internationalsaimoe.com/voting/
HELP THIS PAGE
Everyone who often look and check this wiki, please help this page, list what is needed for help.
Chapter and Chapter cover
Story for each Character
Some information about character, manga and anime
List about HTCB music (Character CD etc.)
And many more!
Please support us and don't forget about Hayate Wikia Rules.
Affiliation