Welcome, Don't forget to read The Rules before editing : Hayate Wikia Rules
---
Welcome to Hayate The Combat Butler Wiki The works of Kenjiro Hata wiki is a collaborative website about your topic that anyone can edit! The information topics including Hayate no Gotoku! and Sore ga Seiyuu! can be found here. We are currently editing over 1,075 articles since September 11th, 2009.
Rest In Peace, Miyu Matsukiedit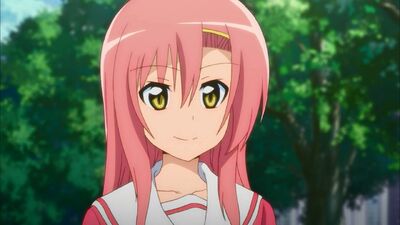 Hinagiku Katsura (

桂 ヒナギク

Katsura Hinagiku

?

) is the current student council president, captain of the kendo club, and the unofficial school idol who garners fans from both genders at Hakuo Academy. Her birthday is on March 3rd.
Latest Chapter

Chapter 563
In order to retrieve the King's Jewel, Hinagiku must face Himegami above the Hakuo Academy campus. What will happen?

Volume 50
Hayate no Gotoku! Manga Volume 50 was released in Japan on February 17th 2017. The limited edition included a postcard book .
Hayate no Gotoku General Newsedit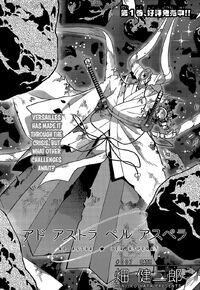 Ad Astra Per Aspera Chapter 7
Shinobu Hazuki is an honest boy who used to live peacefully. However, he is now a wanted criminal throughout the galaxy. After escaping from Satella, Shinobu, Patty and Versailes continue their journey to the imperial kingdom. What will happen next?
PICTURE OF THE WEEKedit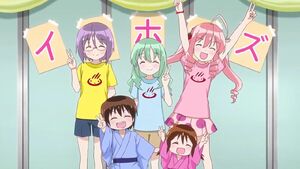 EARPHONES take a photo at a mini event (Sore ga Seiyuu!: Petit Uchiage)

The competition for the Emerald Necklace has ended! It seems that our representative, Hinagiku has a very high hurdle to jump in order to win a necklace but regardless, never giving up has always been her belief! Let us then continue to give our full support to Hinagiku in the now running nomination for the bearer of the Topaz Necklace!
To see the results of previous rounds in the prelims click here.
To see the official event calendar of ISML 2013 click here.
Official website: http://www.internationalsaimoe.com/voting/
HELP THIS PAGE
Everyone who often look and check this wiki, please help this page, list what is needed for help.
Chapter and Chapter cover
Story for each Character
Some information about character, manga and anime
List about HTCB music (Character CD etc.)
And many more!
Please support us and don't forget about Hayate Wikia Rules.
Affiliation

Ad blocker interference detected!
Wikia is a free-to-use site that makes money from advertising. We have a modified experience for viewers using ad blockers

Wikia is not accessible if you've made further modifications. Remove the custom ad blocker rule(s) and the page will load as expected.