Hakuou Academy
Talk

0
774pages on
this wiki
Hakuou Academy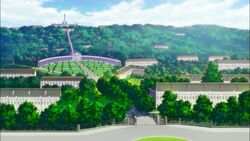 Information
Manga & Anime
Hakuou Academy is the prestigious school that Nagi, Hayate, and most of the other characters attends. The school has many wealthy and smart students attending it, and up to 3 students per year are allowed to skip grades if they are eligible. Though the school has a proper school uniform, it is normal to see people wearing butler uniforms in the school; since there are a lot of wealthy students who have butlers accompanying them, like Nagi Sanzenin and Koutarou Azumamiya.
The school's board of directors include Mikado Sanzenin, and Athena Tennousu who also serves as board chairman. Kirika Kuzuha is the superintendent, however she has only been given more development in the anime. The current student council president is Hinagiku Katsura, who is also the school idol.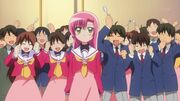 The school is very well guarded day and night. Teachers patrol the entrances, particularly it has been shown that
Yukiji
has guard duties even at night as she lives inside the school. The school also has a very strict security force as demonstrated when
Ayumu
tried to enter the school during Valentine's Day.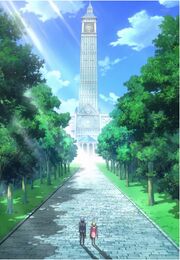 A notable location of the school is the Clock Tower, which also houses the Student Council room. It is the highest point in the entire school, and gives the people up in the tower a great view of the surrounding area. However only members of the student council and people with official business with them can go up the clock tower. A more notorious part of the school would be the old school building which is very run down and is even haunted, though Isumi has exorcised the evil spirits inside
The school follows the national holidays and festivals of Japan like the Golden Week vacation, and the school even holds a Hinamatsuri Festival. Other events include the school marathon and the school hike on Mt. Takao. It also has a holiday named Sabbatical Day, contrary to its name has actually no relation to any religion, which serves as a rest day after the school hike for students with weaker physique.