Doujinshi. Game. Comic. V. Tachibana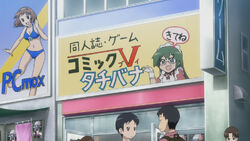 Information
Manga & Anime
Doujinshi. Game. Comic. V. Tachibana (同人誌・ゲーム・コミックVタチバナ, Dōninshi gēmu komikku V Tachibana?) is Wataru's new business that was set up in Akihabara after his previous store was closed down, like its title suggests the store specializes in selling games, doujinshis and comics. It is is ran by the current head of the Tachibana family Wataru Tachibana with his maid Saki Kijima and Ayumu Nishizawa as his employees.
Ad blocker interference detected!
Wikia is a free-to-use site that makes money from advertising. We have a modified experience for viewers using ad blockers

Wikia is not accessible if you've made further modifications. Remove the custom ad blocker rule(s) and the page will load as expected.