The Wise Old Man Of Theope Says. 'Love And Hate Are The Same Thing'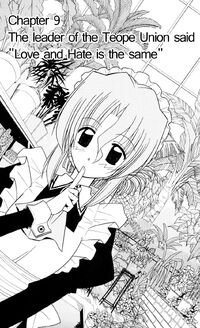 Chapter Info
| | |
| --- | --- |
| Volume | 9 |
| Chapter | 94 |
| Japanese Title | ユニオンテオーペの長老曰く"愛と憎しみは同じもの" |
| Romanized Title | Yunionteōpe no chōrō iwaku" ai to nikushimi wa onaji mo no" |
| Cover Character(s) | Maria |
| Total Pages | 16 |
| Year Released | 2006 |
Chapter Chronology
Hayate no Gotoku! Chapter 94: The Wise Old Man Of Theope Says. 'Love And Hate Are The Same Thing' (ユニオンテオーペの長老曰く"愛と憎しみは同じもの", Yunionteōpe no chōrō iwaku" ai to nikushimi wa onaji mo no"?)
Characters in Order of Apppearance
Summary
Anime Adaption
Trivia
As Sakuya hits one of the prizes at the shooting gallery, one of the prizes seen beside it is a BS game console. This is a parody of the Nintendo DS.
While attending the Hinamatsuri festival, Nagi points to a mask stand featuring a mask that resembles Alphonse Elric's head who is a character from the series FullMetal Alchemist.

Coincidentally, Nagi's seiyuu Rie Kugimiya also voices Alphonse Elric.
Ad blocker interference detected!
Wikia is a free-to-use site that makes money from advertising. We have a modified experience for viewers using ad blockers

Wikia is not accessible if you've made further modifications. Remove the custom ad blocker rule(s) and the page will load as expected.