Riding A Mountain Bike ~ When I Went Shopping ~ I Realized That I Had No Wallet ~ But I Continued On Dating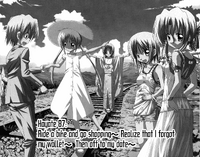 Chapter Info
Chapter Chronology
Hayate no Gotoku! Chapter 87: Riding A Mountain Bike ~ When I Went Shopping ~ I Realized That I Had No Wallet ~ But I Continued On Dating (MTBに乗って~買い物にでかけたら~サイフないのに気づいて~そのままデート~, MTB ni notte ~ kaimono ni dekaketara ~ saifu nai no ni kidzuite ~ sonomama dēto ~?)
Characters in Order of Appearance
Summary
Anime Adaption
Trivia
While trying to figure out what to give Hinagiku for her birthday, Hayate contemplates on giving her anime. During this scene, Ranma Saotome from Ranma 1/2 and Naruto Uzumaki from Naruto can be seen.
As Miki points out to Izumi that Hayate and Ayumu looked like a foolish couple out on a date, Miki makes a reference to the manga artist Hidenori Hara.
Miki, Izumi and Risa's birthdays are revealed to be September 19th, June 21st, and July 13th.
Ad blocker interference detected!
Wikia is a free-to-use site that makes money from advertising. We have a modified experience for viewers using ad blockers

Wikia is not accessible if you've made further modifications. Remove the custom ad blocker rule(s) and the page will load as expected.