Protect Isumi ~ The Challenger ~ Tonight's Story Is About Ambitious Girls In Skirts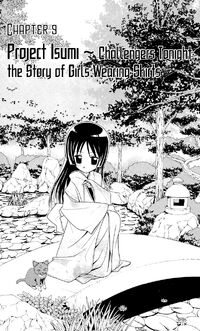 Chapter Info
Volume
8
Chapter
83
Japanese Title
プロジェクト伊澄~挑戦者たち~ 今夜はスカートにかけた女たちの物語です
Romanized Title
Purojekuto isumi ~ chōsenshatachi ~ kon'ya wa sukāto ni kaketa on'na-tachi no monogataridesu
Cover Character(s)
Isumi Saginomiya
Shiranui
Total Pages
16
Year Released
2006
Chapter Chronology
Hayate no Gotoku! Chapter 83: Protect Isumi ~ The Challenger ~ Tonight's Story Is About Ambitious Girls In Skirts (プロジェクト伊澄~挑戦者たち~ 今夜はスカートにかけた女たちの物語です, Purojekuto isumi ~ chōsenshatachi ~ kon'ya wa sukāto ni kaketa on'na-tachi no monogataridesu?)
Characters in Order of Appearance
Summary
Anime Adaption
Trivia
During the beginning of the chapter, the narration of Isumi's life mentions the Japanese actor Taguchi Tomorowo.
After having wrapped Isumi's head with seaweed and given her a dried bonito lit on fire, Sakuya says Final Sword Kaguzu- (Tsui no Hiken: Kaguzu). This is a reference to the technique Tsui no Hiken: Kaguzuchi used by Makoto Shishio in Rurouni Kenshin.

Additionally, the next panel shows seven of the nine symbols of Kenshin's Kuzuryūsen technique.
Ad blocker interference detected!
Wikia is a free-to-use site that makes money from advertising. We have a modified experience for viewers using ad blockers

Wikia is not accessible if you've made further modifications. Remove the custom ad blocker rule(s) and the page will load as expected.