Elevator Action Was Beyond The Comprehension Of Those Of Us That Couldn't Be Newtype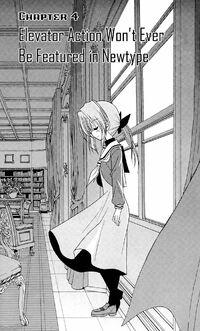 Chapter Info
| | |
| --- | --- |
| Volume | 8 |
| Chapter | 78 |
| Japanese Title | ニュータイプになれない僕らは決して理解しえないエレベーターアクション |
| Romanized Title | Nyūtaipu ni narenai bokura wa kesshite rikai shi enai erebētāakushon |
| Cover Character(s) | Maria |
| Total Pages | 16 |
| Year Released | 2006 |
Chapter Chronology
Hayate no Gotoku! Chapter 78: Elevator Action Was Beyond The Comprehension Of Those Of Us That Couldn't Be Newtype (ニュータイプになれない僕らは決して理解しえないエレベーターアクション, Nyūtaipu ni narenai bokura wa kesshite rikai shi enai erebētāakushon?)
Characters in Order of Appearance
Summary
Anime Adaption
Trivia
While calling out to Maria in the Sanzenin Mansion, Nagi is seen playing with a PlayStation 2.
While in the Hakuo clock tower, Hinagiku hands Hayate a can of "Bozz Coffee". This is a parody of Boss Coffee.
Ad blocker interference detected!
Wikia is a free-to-use site that makes money from advertising. We have a modified experience for viewers using ad blockers

Wikia is not accessible if you've made further modifications. Remove the custom ad blocker rule(s) and the page will load as expected.