Wont Be Crying Out Love In The Center of The World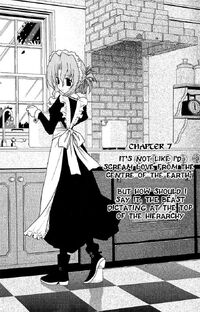 Chapter Info
| | |
| --- | --- |
| Volume | 1 |
| MyFirstBIG Volume | 1, SP1 |
| Chapter | 7 |
| Japanese Title | 世界の中心で別に愛は叫ばねーけどなんつーかヒエラルキーの頂点に君臨する獣 |
| Romanized Title | ekai no chuushin de betsuni ai ha sakeba ne kedonantsu ka hieraruki no chouten ni kunrin suru kemono |
| Viz Title | Won't Be Crying Out Love in the Center of the World, but in Other Words, the Beast Reigning at the Top of the Hierarchy |
| Cover Character(s) | Maria |
| Total Pages | 16 |
| Year Released | 2005 |
Chapter Chronology
Hayate no Gotoku! Chapter 7: Won't Be Crying Out Love in the Center of the World, but in Other Words, the Beast Reigning at the Top of the Hierarchy (世界の中心で別に愛は叫ばねーけどなんつーかヒエラルキーの頂点に君臨する獣, ekai no chuushin de betsuni ai ha sakeba ne kedonantsu ka hieraruki no chouten ni kunrin suru kemono?)
Characters in order of Appearance
Summary
The chapter begins with a question of what a butler's job really means. Maria jokes to Hayate that it means being his mistress' pet. Flustered, Hayate directs himself to Nagi's room to wake her up, leading to his first encounter with Tama, who is on the bed with Nagi. Hayate panics and is given a calm (on Nagi's part) introduction to Tama and his nature. Klaus, hidden under Nagi's bed, gets on Tama's bad side and is swatted to the ground in a bloody heap. Nagi sharply reprimands Tama before he can get at Hayate, but her admonishment quickly makes things worse as she tells Tama to settle things out of doors. Nagi gambles on Hayate's victory, while Klaus insists that he will prove incompetent and thus face termination. The fight begins in earnest before Klaus notices that Tama and Hayate are in the middle of Maria's garden. Maria breaks up the fight and scare Nagi, Klaus, and Tama into submission. She comments to Hayate, while tending to his wounds, that Nagi saved Tama's life during their first encounter. Hayate, alone with Tama, remarks to him that they are similarly indebted to Nagi's generosity. Tama snaps back (verbally) not to put him in the same group as Hayate and walks off, cursing the confused butler. Hayate, when he sees Maria and Nagi, wonders aloud at the incredible nature of upper-class pets - specifically, the ability to talk. Maria and Nagi, completely unaware of Tama's abilities (which Tama himself hid from them), doubt Hayate's sanity.
Anime Adaption
Trivia
Ad blocker interference detected!
Wikia is a free-to-use site that makes money from advertising. We have a modified experience for viewers using ad blockers

Wikia is not accessible if you've made further modifications. Remove the custom ad blocker rule(s) and the page will load as expected.