Give It Your Best, Nagi's — Special Training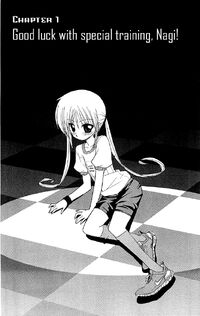 Chapter Info
| | |
| --- | --- |
| Volume | 6 |
| Chapter | 53 |
| Japanese Title | がんばれナギーズ 特訓中 |
| Romanized Title | ganbare nagizu tokkunchuu |
| Cover Character(s) | Nagi Sanzenin |
| Total Pages | 16 |
| Year Released | 2005 |
Chapter Chronology
Hayate no Gotoku! Chapter 53: Give It Your Best, Nagi's — Special Training (がんばれナギーズ 特訓中, ganbare nagizu tokkunchuu?)
Characters in Order of Appearance
Summary
Hayate decides to join the freestyle marathon with Nagi and with the 150 million yen prize, he will pay off his debt to her. Hayate tells Nagi that they have to do their best to come in first place, so Nagi's training to win begins. The day of the marathon arrives. Hinagiku and Miki have paired up, Risa and Izumi have become a team, and Yukiji and Kaoru have come together. Hayate cheers up Nagi and tells her that they'll do their best, but while they were talking, the marathon had already begun.
Anime Adaption
Trivia
While thinking of buying expensive alcohol once she won the track meet, Yukiji's face bares a strong resemblance to Kaiji Itō from the series Tobaku Mokushiroku Kaiji.
Ad blocker interference detected!
Wikia is a free-to-use site that makes money from advertising. We have a modified experience for viewers using ad blockers

Wikia is not accessible if you've made further modifications. Remove the custom ad blocker rule(s) and the page will load as expected.