Time of Destruction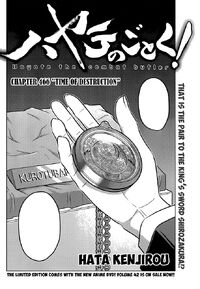 Chapter Info
| | |
| --- | --- |
| Volume | 43 |
| Chapter | 466 |
| Total Pages | 16 |
| Year Released | 2014 |
Chapter Chronology
Hayate no Gotoku! Chapter 466: Time of Destruction
Characters in Order of Appearance
Summary
Trivia
The back of the computer monitor Nagi is seen using features the Apple Inc. logo.
On the computer monitor, Nagi is seen watching a scene from the episode Last Live of Love Live! Season II.
After having seen Hayate's condition when he had returned, Nagi offers him a "Senzu Bean". This is a reference to the energy rejuvenating beans from the Dragon Ball series.
Ad blocker interference detected!
Wikia is a free-to-use site that makes money from advertising. We have a modified experience for viewers using ad blockers

Wikia is not accessible if you've made further modifications. Remove the custom ad blocker rule(s) and the page will load as expected.