Love Stories Happen Surprisingly Suddenly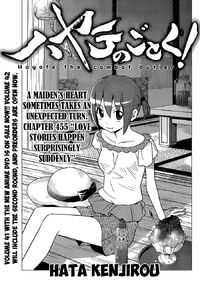 Chapter Info
| | |
| --- | --- |
| Volume | 42 |
| Chapter | 455 |
| Cover Character(s) | Ayumu Nishizawa |
| Total Pages | 16 |
| Year Released | 2014 |
Chapter Chronology
Hayate no Gotoku! Chapter 455: Love Stories Happen Surprisingly Suddenly
Characters in Order of Appearance
Summary
Trivia
The coffeehouse Fumi and Sharna are seen drinking coffee at is called "Moonbucks". This is a parody of the coffeehouse chain Starbucks.
After having arrived at the beach, Fumi tells Sharna of her dream of pulling out a fish sausage underwater and having tropical fish gather around her, before mentioning that she had got the idea from the film "Fighting Nemo". This is a parody of the Disney Pixar film Finding Nemo.
Ad blocker interference detected!
Wikia is a free-to-use site that makes money from advertising. We have a modified experience for viewers using ad blockers

Wikia is not accessible if you've made further modifications. Remove the custom ad blocker rule(s) and the page will load as expected.