About The Brother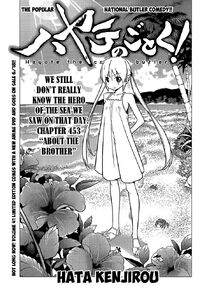 Chapter Info
| | |
| --- | --- |
| Volume | 42 |
| Chapter | 453 |
| Cover Character(s) | Nagi Sanzenin |
| Total Pages | 16 |
| Year Released | 2014 |
Chapter Chronology
Hayate no Gotoku! Chapter 453: About The Brother
Characters in Order of Appearance
Summary
Trivia
When Nagi interrupts Hayate's conversation with Ikusa, she uses the line "I refuse to work!!!, I absolutely refuse to work!!!!". This is a parody of Kenshin Himura's vow to never kill from the series Rurouni Kenshin.
Ad blocker interference detected!
Wikia is a free-to-use site that makes money from advertising. We have a modified experience for viewers using ad blockers

Wikia is not accessible if you've made further modifications. Remove the custom ad blocker rule(s) and the page will load as expected.