I want to Meet Ika-chan at The Beach. Actually, I Want to Meet Ika-chan No Matter Where It is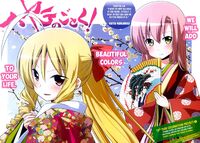 Chapter Info
Chapter Chronology
Hayate no Gotoku! Chapter 440: I want to Meet Ika-chan at The Beach. Actually, I Want to Meet Ika-chan No Matter Where It is
Characters in Order of Appearance
Summary
Trivia
The title of this chapter uses the phrase "Ika-chan". This is a reference to Ika Musume from the series Shinryaku! Ika Musume.

Additionally, as Alice informs Chiharu that fishermen have been causing problems for the locals by over fishing, the beachside restaurant "Lemon Beach House" and Ika Musume, Chizuru Aizawa and Eiko Aizawa can be seen.
Ad blocker interference detected!
Wikia is a free-to-use site that makes money from advertising. We have a modified experience for viewers using ad blockers

Wikia is not accessible if you've made further modifications. Remove the custom ad blocker rule(s) and the page will load as expected.