Destroy The Invisible Wall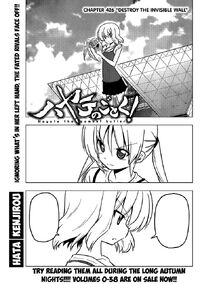 Chapter Info
Volume
39
Chapter
426
Japanese Title
見えない壁、壊して
Romanized Title
Mienai kabe, kowashite
Cover Character(s)
Ruka Suirenji
Nagi Sanzenin
Total Pages
16
Year Released
2013
Chapter Chronology
Hayate no Gotoku! Chapter 426: Destroy The Invisible Wall (見えない壁、壊して, Mienai kabe, kowashite?)
Characters in Order of Appearance
Isumi Saginomiya - shown in flashback
Hayate Ayasaki - mentioned
Hinagiku Katsura - mentioned
Maizumi
Wakaba
Summary
Trivia
The convention center where Nagi and Ruka's doujinshi competition takes place at is Tokyo Big Sight. 
As Kayura tells Chiharu that both Ruka and Nagi's manga are poorly made and hard to read, a poster featuring Ryūko Matoi from the series Kill la Kill can be seen in the background.
Ad blocker interference detected!
Wikia is a free-to-use site that makes money from advertising. We have a modified experience for viewers using ad blockers

Wikia is not accessible if you've made further modifications. Remove the custom ad blocker rule(s) and the page will load as expected.