Kyoto and Ise - Conclusion (Night 13): There Are All Sorts of People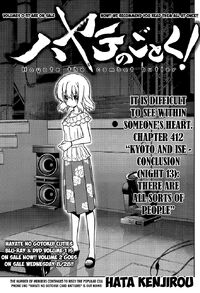 Chapter Info
| | |
| --- | --- |
| Volume | 38 |
| Chapter | 412 |
| Japanese Title | 京都・伊勢 決着編〔第十三夜〕人それぞれ、色々ある |
| Romanized Title | Kyōto Ise ketchaku-hen (dai jū san-yo) risorezore, iroiro aru |
| Cover Character(s) | Ruka Suirenji |
| Total Pages | 16 |
| Year Released | 2013 |
Chapter Chronology
Hayate no Gotoku! Chapter 412: Kyoto and Ise - Conclusion (Night 13): There Are All Sorts of People (京都・伊勢 決着編〔第十三夜〕人それぞれ、色々ある, Kyōto Ise ketchaku-hen (dai jū san-yo) risorezore, iroiro aru?)
Characters in Order of Appearance
Summary
Trivia
While trying to help Nagi out, Hinagiku pulls out a Daijisen dictionary out of her bag.
After witnessing Hinagiku pull out two 5 kg weights from her bag, Alice shows her a J.P. Morgan Visa credit card before lecturing her on what is truly necessary to bring on a trip. 
Ad blocker interference detected!
Wikia is a free-to-use site that makes money from advertising. We have a modified experience for viewers using ad blockers

Wikia is not accessible if you've made further modifications. Remove the custom ad blocker rule(s) and the page will load as expected.