Anime Store Manager In Love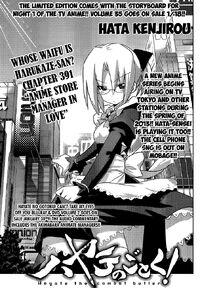 Chapter Info
Chapter Chronology
Hayate no Gotoku! Chapter 391: Anime Store Manager In Love
Characters in Order of Appearance
NPC-A (Animate store manager)
Summary
Trivia
Fumi and Sharna go to the store Animate, which is the largest retailer of anime, manga and games in Japan.
Outside of Animate, posters of Psycho-Pass and Chuunibyou demo Koi ga Shitai! can be seen.
Inside Animate, a poster of Kyousuke Hyoubu from the anime series Zettai Karen Children: The Unlimited - Hyoubu Kyousuke can be seen.
When introducing NPC-A, Fumi mentions that his waifu is "Homu Homu". This is a reference to the fan nickname for Homura Akemi from the Madoka Magica series.
While admiring Chiharu's pressence at Animate, an annoyed customer mentions Digiko who is from the series Di Gi Charat.
Additionally, during this scene Chiharu is seen looking at a DVD of the anime series K.
While the customers are talking about Chiharu, Animate's mascot "Meito Anizawa" also known as "Anime Tenchou" makes an appearance.
NPC-A mentions to Chiharu that he owns the anime Oyoneko Boonyan.
Ad blocker interference detected!
Wikia is a free-to-use site that makes money from advertising. We have a modified experience for viewers using ad blockers

Wikia is not accessible if you've made further modifications. Remove the custom ad blocker rule(s) and the page will load as expected.