The Day The Dolphin Flew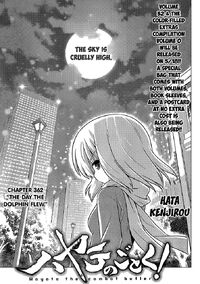 Chapter Info
| | |
| --- | --- |
| Volume | 34 |
| Chapter | 362 |
| Cover Character(s) | Ruka Suirenji |
| Total Pages | 16 |
| Year Released | 2012 |
Chapter Chronology
Hayate no Gotoku! Chapter 362: The Day The Dolphin Flew
Characters in Order of Appearance
Summary
Trivia
Ruka's Parents make their first appearance in this chapter.
Ruka's birthday is revealed to be January 8th
Ruka's age is also revealed to be 16
The performance office, Ruka's parents used to own bares a slight resemblance to Kogoro Mouri's detective agency from the Detective Conan series.
Ad blocker interference detected!
Wikia is a free-to-use site that makes money from advertising. We have a modified experience for viewers using ad blockers

Wikia is not accessible if you've made further modifications. Remove the custom ad blocker rule(s) and the page will load as expected.