Thus Spoke Tsurugino Kayura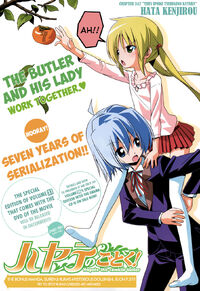 Chapter Info
Chapter Chronology
Chapter 342 : "Thus Spoke Tsurugino Kayura"
Characters in Order of Appearance
Summary
Trivia
This marks the seventh year aniversary of serialization of the manga.
As Nagi enters one of the stores in Akihabara, a poster of Mami and Kyubey from Madoka Magica can be seen behind her.
Ad blocker interference detected!
Wikia is a free-to-use site that makes money from advertising. We have a modified experience for viewers using ad blockers

Wikia is not accessible if you've made further modifications. Remove the custom ad blocker rule(s) and the page will load as expected.