An Ordinary Life That KyoAni Wouldn't Turn Into an Anime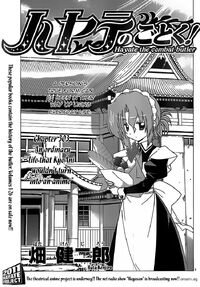 Chapter Info
| | |
| --- | --- |
| Volume | 28 |
| Chapter | 303 |
| Cover Character(s) | Maria |
| Total Pages | 16 |
| Year Released | 2011 |
Chapter Chronology
Chapter 303 : "An Ordinary Life That KyoAni Wouldn't Turn Into an Anime"
Characters in Order of Appearance
Summary
Anime Adaption
Trivia
While in the Violet Mansion, Nagi can be seen playing a PlayStation 3.
After returning to the Violet Mansion, Chiharu presents Nagi with a copy of a PSP game called "Mon Han 3", which is a parody of the game Monster Hunter Portable 3rd.
Ad blocker interference detected!
Wikia is a free-to-use site that makes money from advertising. We have a modified experience for viewers using ad blockers

Wikia is not accessible if you've made further modifications. Remove the custom ad blocker rule(s) and the page will load as expected.