Nyan Nyan Nya Nya Nya Nya Nya Nya Nya Nyaaaaan ♥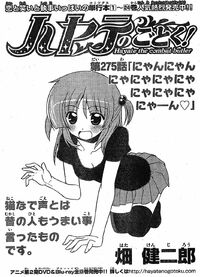 Chapter Info
| | |
| --- | --- |
| Volume | 26 |
| Chapter | 275 |
| Cover Character(s) | Izumi Segawa |
| Total Pages | 16 |
| Year Released | 2010 |
Chapter Chronology
Hayate no Gotoku! Chapter 275: Nyan Nyan Nya Nya Nya Nya Nya Nya Nya Nyaaaaan ♥
Characters in Order of Appearance
Izumi Segawa - possessed by Yukariko's cat
Cat Crew
Yukariko Sanzenin - appears in flashback
Summary
After the cat taking form on Izumi, he begin to make trouble between Hayate and Hina to arrange them into Love triangle( Actually the cat ended up teasing Hinagiku, not Hayate which hayate found surprising about).Finally after some trouble, the cat's disguise is compromised by Hayate and began to attacking him with his claw. With this moment he tells about his promise with Yukariko ( Nagi's mother) to them.
Trivia
Ad blocker interference detected!
Wikia is a free-to-use site that makes money from advertising. We have a modified experience for viewers using ad blockers

Wikia is not accessible if you've made further modifications. Remove the custom ad blocker rule(s) and the page will load as expected.