Shonen Manga Romantic Comedies Often Have Incidents That Occur In The Bath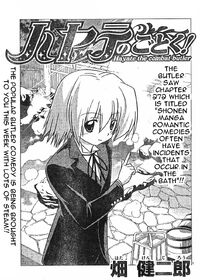 Chapter Info
| | |
| --- | --- |
| Volume | 25 |
| Chapter | 272 |
| Cover Character(s) | Hayate Ayasaki |
| Total Pages | 17 |
| Year Released | 2010 |
Chapter Chronology
Hayate no Gotoku! Chapter 272: Shonen Manga Romantic Comedies Often Have Incidents That Occur In The Bath
Characters in Order of Appearance
Summary
After the battle with the scary cats Hayate and Maria start to make themselves at home whilst Maria takes a bath, Nagi is spending her last hours in her old mansion with Sakuya and Isumi, but she feels uneasy when hearing that Maria and Hayate will be spending the night over in the new house.
Trivia
Ad blocker interference detected!
Wikia is a free-to-use site that makes money from advertising. We have a modified experience for viewers using ad blockers

Wikia is not accessible if you've made further modifications. Remove the custom ad blocker rule(s) and the page will load as expected.