There's No Way to Ensure Victory on a Spinning Roulette. There is if You Don't Spin it, Though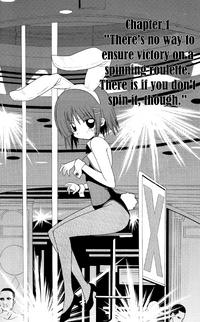 Chapter Info
| | |
| --- | --- |
| Volume | 20 |
| Chapter | 207 |
| Japanese Title | 回るルーレットに必勝法はない。回らないならある |
| Romanized Title | Mawaru rūretto ni hisshō-hō wanai. Mawaranainara aru |
| Cover Character(s) | Sakuya Aizawa |
| Total Pages | 16 |
| Year Released | 2009 |
Chapter Chronology
Hayate no Gotoku! Chapter 207: There's No Way to Ensure Victory on a Spinning Roulette. There is if You Don't Spin it, Though (回るルーレットに必勝法はない。回らないならある, Mawaru rūretto ni hisshō-hō wanai. Mawaranainara aru?)
Characters in Order of Appearance
Summary
Trivia
As Sakuya's bunny outfit continues to fall apart, after Saki had lost roulette, the first four members of the audience shown cheering are a parody of the Reaction Guys internet meme.
Ad blocker interference detected!
Wikia is a free-to-use site that makes money from advertising. We have a modified experience for viewers using ad blockers

Wikia is not accessible if you've made further modifications. Remove the custom ad blocker rule(s) and the page will load as expected.