The Person Who is Loved is the One Who is Worried. Also, the Holy God is Said to be Dead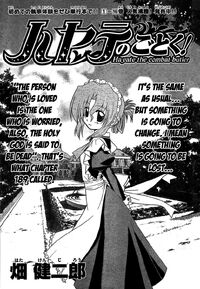 Chapter Info
| | |
| --- | --- |
| Volume | 18 |
| MyFirstBIG Volume | 3 |
| Chapter | 189 |
| Japanese Title | 愛ゆえに人は苦しむと聖帝も言ってたしね |
| Romanized Title | Ai yueni hito wa kurushimu to seitei mo i~tsu tetashi ne |
| Cover Character(s) | Maria |
| Total Pages | 16 |
| Year Released | 2009 |
Chapter Chronology
Hayate no Gotoku! Chapter 189: The Person Who is Loved is the One Who is Worried. Also, the Holy God is Said to be Dead (愛ゆえに人は苦しむと聖帝も言ってたしね, Ai yueni hito wa kurushimu to seitei mo i~tsu tetashi ne?)
Characters in Order of Appearance
Summary
Anime Adaption
Trivia
As Maria rummages through the mail, an ad for Pizza Cap can be seen. This is a parody of the restaurant Pizza Hut.
While in the Sanzenin Mansion, Nagi discusses with Hayate the dangers of Google Street View.

Additionally, Nagi is seen using a laptop labeled Valo. This is a parody of Sony's Vaio brand of laptops.

After explaining her scenario for Hayate and Maria's date, Nagi does a pose that Keima Katsuragi often does in the series The World God Only Knows.
Ad blocker interference detected!
Wikia is a free-to-use site that makes money from advertising. We have a modified experience for viewers using ad blockers

Wikia is not accessible if you've made further modifications. Remove the custom ad blocker rule(s) and the page will load as expected.