You Bump Into Everyone You Need in Life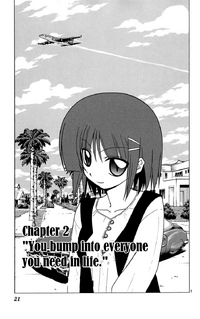 Chapter Info
| | |
| --- | --- |
| Volume | 17 |
| Chapter | 175 |
| Japanese Title | 人生に必要な人とはだいたい出会うようにできている |
| Romanized Title | Jinsei ni hitsuyōna hito to wa daitai deau yō ni dekite iru |
| Cover Character(s) | Sakuya Aizawa |
| Total Pages | 16 |
| Year Released | 2008 |
Chapter Chronology
Hayate no Gotoku! Chapter 175: You Bump Into Everyone You Need in Life (人生に必要な人とはだいたい出会うようにできている, Jinsei ni hitsuyōna hito to wa daitai deau yō ni dekite iru?)
Characters in Order of Appearance
Tome (Sakuya's nursemaid)
Summary
Anime Adaption
Trivia
In this chapter it is revealed how Chiharu met Sakuya and became her maid.
Before the start of the arcade game, Chiharu says to Sakuya "You won't die, because I'll protect you". This is a reference to the quote Rei Ayanami had used in episode 6 in Neon Genesis Evangelion.
As Chiharu and Sakuya leave, it is revealed that the name of the arcade is "Amusement Game Arashi". This is a reference to the series Game Center Arashi.
Ad blocker interference detected!
Wikia is a free-to-use site that makes money from advertising. We have a modified experience for viewers using ad blockers

Wikia is not accessible if you've made further modifications. Remove the custom ad blocker rule(s) and the page will load as expected.