The Plan is Yet To Be Determined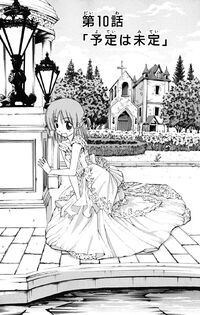 Chapter Info
| | |
| --- | --- |
| Volume | 16 |
| Chapter | 172 |
| Japanese Title | 予定は未定 |
| Romanized Title | Yotei wa mitei |
| Viz Title | No Definite Plans |
| Cover Character(s) | Izumi Segawa |
| Total Pages | 16 |
| Year Released | 2008 |
Chapter Chronology
Hayate no Gotoku! Chapter 172: The Plan is Yet To Be Determined (予定は未定, Yotei wa mitei?)
Characters in Order of Appearance
Summary
Trivia
It is confirmed here that Hayate had a falling out with his first girlfriend many years ago, and that she was right while he was wrong. (It was only inferred in Chapter 144 that he had a fallout with her)
During his fight with Kotetsu, Hayate is shown to be using a sword that resembles the Sword of Dai from Dragon Quest: Dai no Daibōken.
Ad blocker interference detected!
Wikia is a free-to-use site that makes money from advertising. We have a modified experience for viewers using ad blockers

Wikia is not accessible if you've made further modifications. Remove the custom ad blocker rule(s) and the page will load as expected.