Undesired Moe and Desired Courage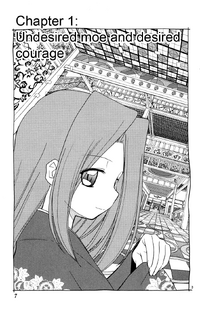 Chapter Info
| | |
| --- | --- |
| Volume | 15 |
| Chapter | 152 |
| Japanese Title | いらない萌えと、いる勇気 |
| Romanized Title | Iranai moe to, iru yūki |
| Viz Title | Unnecessary Moe and Necessary Courage |
| Cover Character(s) | Aika Kasumi |
| Total Pages | 16 |
| Year Released | 2008 |
Chapter Chronology
Hayate no Gotoku! Chapter 151: Undesired Moe and Desired Courage (いらない萌えと、いる勇気, Iranai moe to, iru yūki?)
Characters in Order of Appearance
Summary
Trivia
Before throwing a stick down a ravine, Yukiji mentions to Hayate that animals will target moving things and that she had gotten this from watching a documentary called "Jurassic Park". This is a reference to the film Jurassic Park.
Ad blocker interference detected!
Wikia is a free-to-use site that makes money from advertising. We have a modified experience for viewers using ad blockers

Wikia is not accessible if you've made further modifications. Remove the custom ad blocker rule(s) and the page will load as expected.