Having Your Identity Exposed and Being Treated Like an Animal, if I Think About it, This Setup is Scary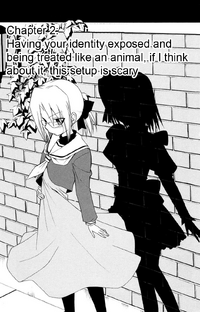 Chapter Info
| | |
| --- | --- |
| Volume | 14 |
| Chapter | 142 |
| Japanese Title | 正体がバレると動物にされるって設定はよく考えると怖いよね |
| Romanized Title | Shōtai ga bareru to dōbutsu ni sa reru tte settei wa yoku kangaeru to kowai yo ne |
| Viz Title | When You Think About It, Turning into an Animal when Your True Identity Is Revealed Is Scary |
| Cover Character(s) | Chiharu Harukaze |
| Total Pages | 16 |
| Year Released | 2008 |
Chapter Chronology
Hayate no Gotoku! Chapter 142: Having Your Identity Exposed and Being Treated Like an Animal, if I Think About it, This Setup is Scary (正体がバレると動物にされるって設定はよく考えると怖いよね, Shōtai ga bareru to dōbutsu ni sa reru tte settei wa yoku kangaeru to kowai yo ne?)
Characters in Order of Appearance
Mrs. Harukaze
Summary
Anime Adaption
Trivia
It is revealed why Chiharu became a maid in this chapter.
During Chiharu's flashback, the UFO catcher she is using is shown with a ZEGA logo. This is a parody of Sega.
Ad blocker interference detected!
Wikia is a free-to-use site that makes money from advertising. We have a modified experience for viewers using ad blockers

Wikia is not accessible if you've made further modifications. Remove the custom ad blocker rule(s) and the page will load as expected.