Someone is Connecting Faster Than ADSL or Optical Fibre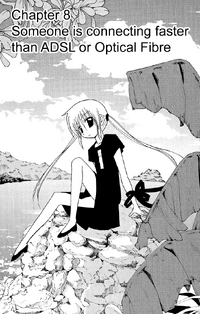 Chapter Info
| | |
| --- | --- |
| Volume | 13 |
| MyFirstBIG Volume | 1 |
| Chapter | 137 |
| Japanese Title | ADSLよりも光ファイバーよりもつながっている誰かがいる |
| Romanized Title | ADSL yori mo hikari faibā yori mo tsunagatte iru dareka ga iru |
| Viz Title | There's Someone with a Stronger Connection than ADSL or Fiber Optics |
| Cover Character(s) | Nagi Sanzenin |
| Total Pages | 16 |
| Year Released | 2007 |
Chapter Chronology
Hayate no Gotoku! Chapter 137: Someone is Connecting Faster Than ADSL or Optical Fibre (ADSLよりも光ファイバーよりもつながっている誰かがいる, ADSL yori mo hikari faibā yori mo tsunagatte iru dareka ga iru?)
Characters in Order of Appearance
Summary
Anime Adaption
Trivia
As Linn tells Hayate that Tama had left the mansion earlier, Linn can be seen watching a television program featuring Ink Nijihara's transformation sequence from Moetan.
While using the message boards to get home, Tama refers to the users of the board as "the nice people who once guided the Densha Otoko". This is a reference to the purportedly true story Densha Otoko.
While on his way back to the Sanzenin Mansion, Tama spots Shiranui in the street playing with an Ah-kun doll from Moetan.
After having returned to the Sanzenin Mansion, Nagi is seen with a laptop labeled Valo. This is a parody of Sony's Vaio brand of laptops.
Ad blocker interference detected!
Wikia is a free-to-use site that makes money from advertising. We have a modified experience for viewers using ad blockers

Wikia is not accessible if you've made further modifications. Remove the custom ad blocker rule(s) and the page will load as expected.