It Was Momoi Who Was Referred to as Having Skin like an Eggshell After a Bath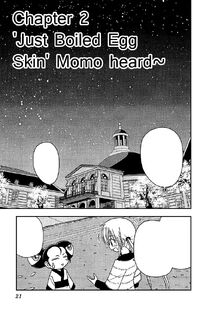 Chapter Info
Volume
12
Chapter
120
Japanese Title
"湯あたりたまご肌"と呼ばれたモモイがよ~
Romanized Title
" Yu-atari tama go hada" to yoba reta Momoi ga yo ~
Cover Character(s)
Nagi Sanzenin
Maya
Total Pages
16
Year Released
2007
Chapter Chronology
Hayate no Gotoku! Chapter 120: It Was Momoi Who Was Referred to as Having Skin like an Eggshell After a Bath ("湯あたりたまご肌"と呼ばれたモモイがよ~, " Yu-atari tama go hada" to yoba reta Momoi ga yo ~?)
Characters in Order of Appearance
Summary
Anime Adaption
Trivia
After being confused by Nagi's question if she came to conquer earth, Maya pulls out Char Aznable's uniform from Mobile Suit Gundam.
While explaining to Hayate that a UFO might have crashed into Shimoda instead of a meteorite, Nagi says the phrase "This is the most important Matter". This is a reference to the series Onegai Teacher.
Ad blocker interference detected!
Wikia is a free-to-use site that makes money from advertising. We have a modified experience for viewers using ad blockers

Wikia is not accessible if you've made further modifications. Remove the custom ad blocker rule(s) and the page will load as expected.