Longing for the Railway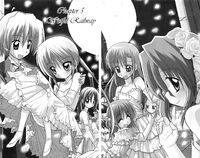 Chapter Info
Chapter Chronology
Hayate no Gotoku! Chapter 112: Longing for the Railway (レイルウェイが切なくて, Reirū~ei ga setsunakute?)
Characters in Order of Appearance
Summary
Anime Adaption
Trivia
While looking at Nagi's jewellery, Hayate picks up a necklace and identifies it from the Tiffany's star collection, then picks up a monogram bracelet and notes that it was from Reeds. This is a reference to the two jewellers Tiffany & Co. and Reeds Jewelers.
Ad blocker interference detected!
Wikia is a free-to-use site that makes money from advertising. We have a modified experience for viewers using ad blockers

Wikia is not accessible if you've made further modifications. Remove the custom ad blocker rule(s) and the page will load as expected.