Britney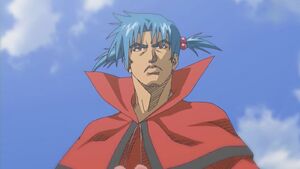 | | |
| --- | --- |
| Japanese Name | ブリトニー |
| Romaji Name | Buritonī |
| Name | Britney |
| Other Name | Britney-chan |
| Age | 8 |
| Gender | Female |
| Birthday | Unknown |
| Height | Unknown |
| Weight | Unknown |
| Blood type | Unknown |
| Hair Color | Blue |
| Eyes Color | Unknown |
| Status | Alive |
Personality
| | |
| --- | --- |
| Like | Unknown |
| Dislike | Unknown |
Family & Relationships
Manga & Anime
Britney (ブリトニー, Buritonī?) is a magical girl and the lead character of Nagi's manga. She is in love with her master who has been turned into a star. Her appearance looks like a muscular man with two pony tails. At one point in the story, Nagi decided to turn her manga into an anime with Maria playing Britney, while her master was played by Hayate (both Maria and Hayate were surprised when they found out that they were part of Nagi's anime when they watched it). Hayate has also used Britney for his one shot drawing in a chapter, her appearence was a highschool girl with two pony tails. Britney's latest appearance was when she stared as a eight year old detective.
Appearance
Britney has blue hair which is tied in two pigtails and wears a red oufit. She looks like a muscular man.
Ad blocker interference detected!
Wikia is a free-to-use site that makes money from advertising. We have a modified experience for viewers using ad blockers

Wikia is not accessible if you've made further modifications. Remove the custom ad blocker rule(s) and the page will load as expected.