Ayu
| | |
| --- | --- |
| Japanese Name | アユ |
| Romaji Name | Ayu |
| Name | Ayu |
| Age | Around 16 |
| Gender | Female |
| Birthday | Unknown |
| Height | Unknown |
| Weight | Unknown |
| Blood type | Unknown |
| Hair Color | Dark Brown (anime S1) |
| Eyes Color | Dark Gray (anime S1) |
| Status | Alive |
Personality
Family & Relationships
Manga & Anime
Ayu (アユ, Ayu?) is one of Heroes of the Sea Lifesavers characters. She is Mitsumi's best friend along with Hijiri. Ayu is one of Hayate and Ayumu's friends who attends Shiomi.
She made an apperance in Hayate no Gotoku! Chapter 1 and Episode 37 in the flashback when Ayumu asked Hayate if he can take a photo sticker with her, but had no involvement in the main story.
Appearance
Ayu has long dark brown hair, dark gray eyes, wears glasses and is often seen wearing a Shiomi High School uniform.
In Heroes of the Sea Lifesavers, Ayu is usually seen wearing a two-piece swimsuit or various summer clothing.
Story
Beginning
On December 24
th
, while on their way to a Christmas party, Ayu, Hijiri and Souya, meet up with Hayate and try to invite him to come along, which he declines saying that he has no money and is on his part-time job. Much to their annoyance they start to question him about his dedication to work, which Hayate states his parents are unemployed. Afterwards Ayu and her friends leave ultimately feeling sorry for Hayate.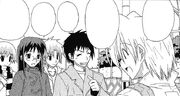 Livesavers Arc
For more information, see Heroes of the Sea Lifesavers.
Trivia
Ad blocker interference detected!
Wikia is a free-to-use site that makes money from advertising. We have a modified experience for viewers using ad blockers

Wikia is not accessible if you've made further modifications. Remove the custom ad blocker rule(s) and the page will load as expected.