Aizawa Mansion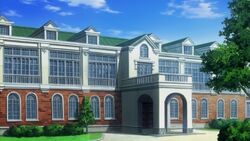 Information
Manga & Anime
Aizawa Mansion (相沢家本宅, Aizawa ka hontaku?) is where the Aizawa family lives. The Aizawa family consists of Mr. Aizawa, Mrs. Aizawa and their five kids, Sakuya, Hinata, Asato, Yuuka and Shiori. Their employees include Makita and Kunieda (butlers), Tome (nursemaid) and Chiharu (Sakuya's maid).
Ad blocker interference detected!
Wikia is a free-to-use site that makes money from advertising. We have a modified experience for viewers using ad blockers

Wikia is not accessible if you've made further modifications. Remove the custom ad blocker rule(s) and the page will load as expected.